USC Mark and Mary Stevens Neuroimaging and Informatics Institute

Newsletter / Spring 2018
NEW FINDINGS
INI faculty recently published work in Brain, Nature's Scientific Data and other prominent journals.
Several major types of epilepsy share similar underpinnings
INI's Imaging Genetics Center launched the Enhancing Neuro Imaging Genetics through Meta-Analysis (ENIGMA) Epilepsy working group, which analyzed nearly 4,000 brain scans in one of the largest epilepsy imaging studies ever conducted. The researchers identified two key brain regions with consistent abnormalities across epilepsy patients: the thalamus, involved in sensory relay, and the precentral gyrus, the brain's primary motor region. The findings indicate that epilepsies, a group of disorders known to vary greatly in causes and presentations across patients, may share mechanisms that are amenable to treatment. INI is also a key contributor to the Epilepsy Bioinformatics Study for Antiepileptogenic Therapy (EpiBioS4Rx), a five-year effort to identify biomarkers for post-traumatic epilepsy.
Open-source stroke dataset released
A USC-led team, including INI's Sook-Lei Liew, Tyler Ard and Hosung Kim, has compiled, archived and shared one of the largest open-source datasets of MRI scans from stroke patients via a study published February 20 in Scientific Data, a Nature journal. The Anatomical Tracings of Lesions After Stroke (ATLAS) has already been downloaded by 33 research groups worldwide and is being used to train algorithms that can automatically process MRI images from stroke patients. Ultimately, researchers hope to use the automated technology to forecast which patients will respond to various rehabilitation stroke therapies and personalize treatment plans accordingly.
Researchers map vestibulocochlear nerve
Keck School of Medicine of USC researchers, including INI's Ryan Cabeen, Meng Law, and Arthur W. Toga, are using diffusion-weighted MRI to reconstruct 3D tractography models of the vestibulocochlear nerve (VCN) in children with severe-to-profound sensorineural hearing loss. The work will help researchers better understand and quantify anatomical changes underlying hearing loss and may ultimately allow clinicians to use MRI to identify candidates for surgery and to guide the placement of cochlear implants. A highlight of the study so far, which is currently in its pilot phase, is the successful separation of the VCN into models characterizing each component nerve that carries information from the cochlea, vestibular system and face.
Brains of Chinese and Caucasian cohorts exhibit key structural differences
Yuchun Tang, Yonggang Shi and Arthur W. Toga of INI partnered with researchers from Shandong University in China to analyze neuroanatomical differences between two populations: young Han Chinese and Caucasian males. Using structural MRI data, the research found significant differences in cortical thickness, volume and surface area in multiple brain regions. These structural disparities may underlie functional and behavioral differences between the two populations. In February, the paper was published online ahead of print in Human Brain Mapping.
NEW AWARDS
INI has launched several new multi-site collaborations investigating brain structure and disease.
INI joins the BRAIN Initiative
Hong-Wei Dong, professor of neurology and director of INI's Center for Integrative Connectomics, has received $19 million to help create a classification system for cells in the brain. Dong and his team have joined the BRAIN Initiative Cell Census Network, a five-year multisite collaboration and offshoot of the prestigious NIH-led BRAIN Initiative. The researchers will build on the revolutionary Mouse Connectome Project by studying the neuroanatomy, connectivity and transcriptomes of cells in the mouse brain.
Reinvestigating the link between gender and Alzheimer's disease
Judy Pa, assistant professor of neurology at INI, has received $3.78 million for a five-year study of Alzheimer's disease. Pa and a team of investigators from across USC will study genetics and imaging data to better understand why women are more susceptible to Alzheimer's than men. By aggregating data from more than 3,000 people, the researchers hope to gain insight into the disease's biological underpinnings.
The grant builds on a study published last year, in which Pa, Arthur W. Toga, and Scott Neu used Global Alzheimer's Association Interactive Network (GAAIN) data to reexamine the link between age, gender and Alzheimer's risk. They found that men and women are equally likely to develop Alzheimer's disease—except between the ages of 65 and 75, when women face a significantly higher risk.
Understanding Latinos' heightened Alzheimer's risk
Only about three percent of Alzheimer's research includes Latinos, a group that accounts for nearly 18 percent of the U.S. population. INI's Meredith Braskie, Yonggang Shi and Arthur W. Toga have partnered with Sid O'Bryant of the University of North Texas Health Science Center to start reversing the trend by studying 2,000 older adults—half of them Mexican-American—at risk of developing Alzheimer's disease. The $12 million NIH-funded study will use cognitive tests, bloodwork and brain scans to better understand why Mexican-Americans develop the disease more frequently than non-Hispanic whites.
TRAINING AND OUTREACH
INI welcomes trainees and visitors from across the lifespan to learn about the latest advances in neuroimaging and informatics.
L.A. Brain Bee welcomes local high school students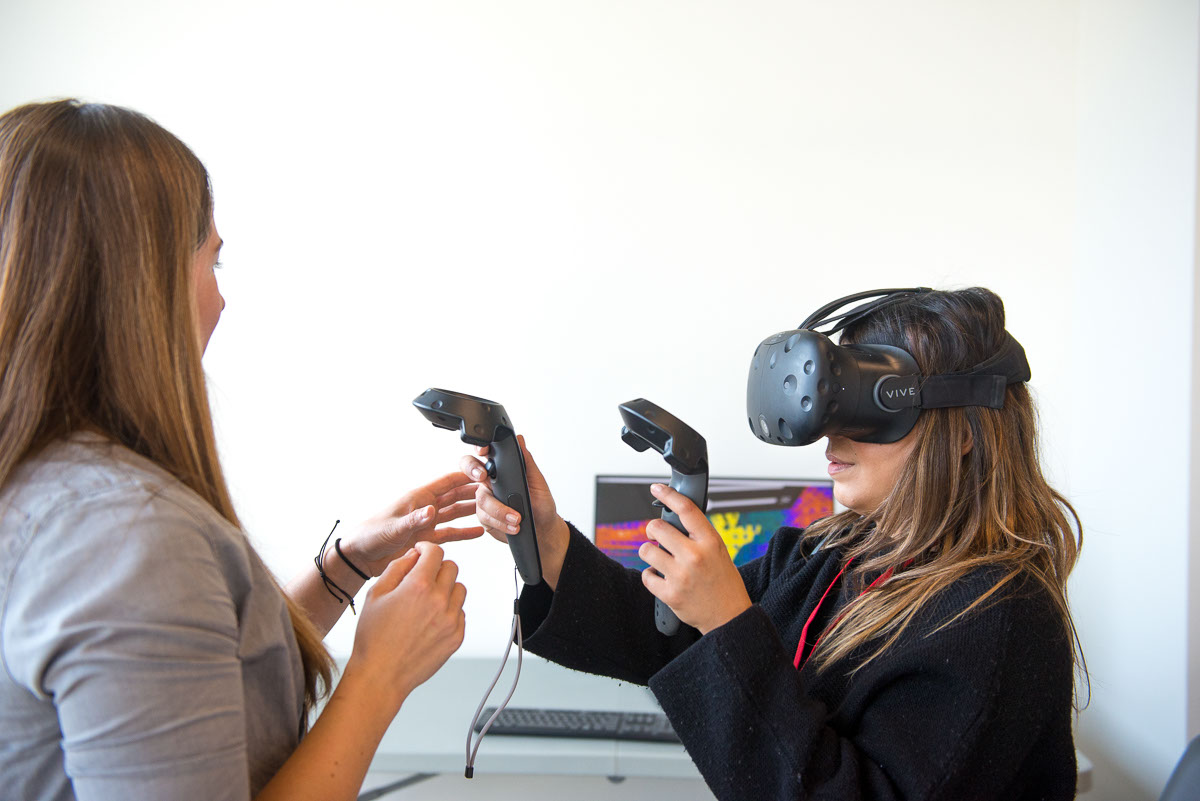 On February 3, INI partnered with the Zilkha Neurogenetic Institute (ZNI) and UCLA's Brain Research Institute to host the Los Angeles Brain Bee, hosting 60 aspiring neuroscientists on campus for the annual competition. Local high school students visited labs, participated in hands-on activities, attended panel discussions and competed in a neuroscience jeopardy-style game. Two guest speakers from INI, Tyler Ard and Dominique Duncan, discussed how the institute uses state-of-the-art virtual reality and cinematic technologies to create sophisticated neuroscience visualizations. The Brain Bee's grand prize winner, Anish Natarajan, will receive an all-expenses-paid trip to Baltimore to participate in the National Brain Bee in March.
Program update: M.S. in Neuroimaging and Informatics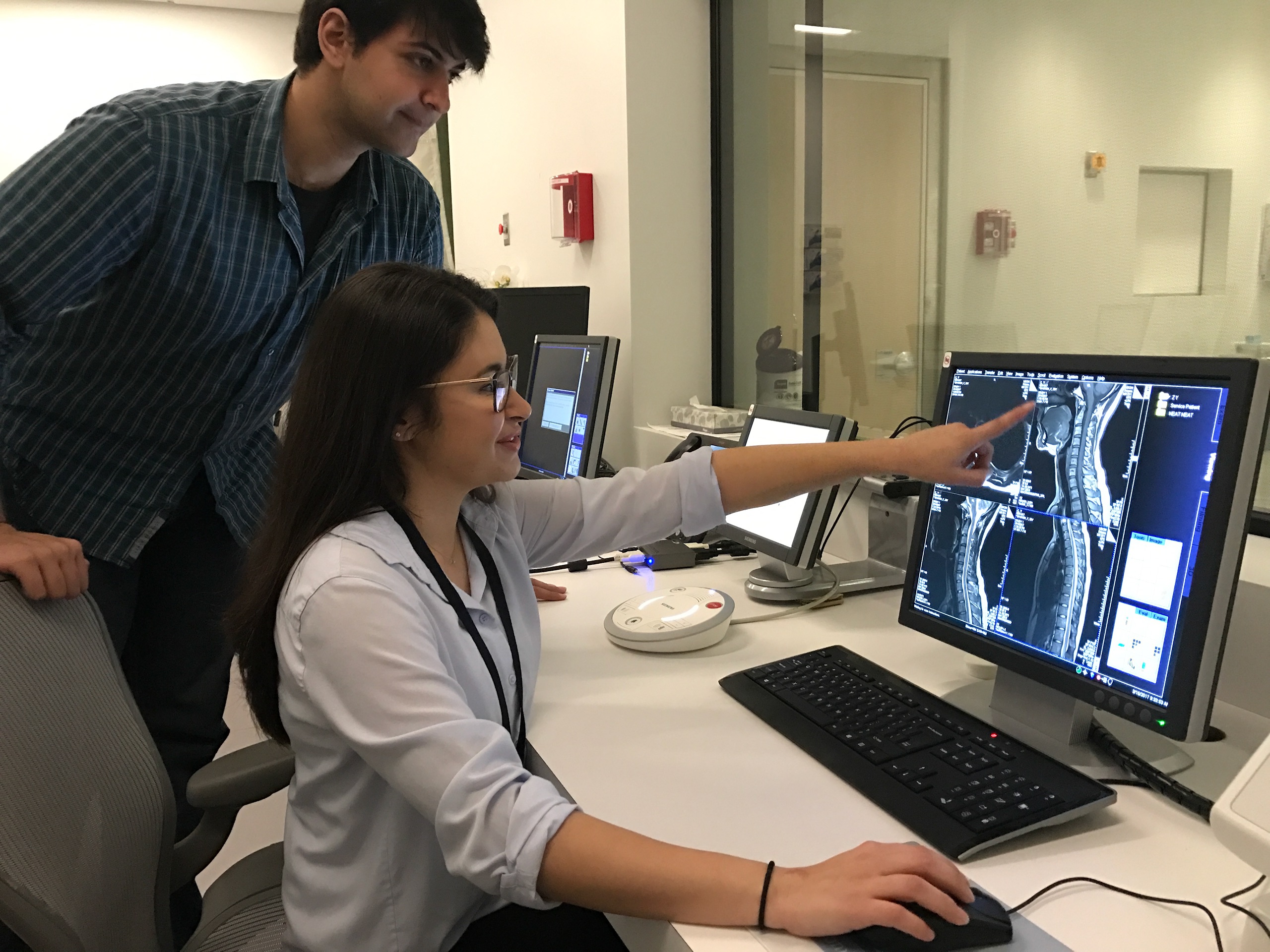 For the 2017-2018 academic year, the Neuroimaging and Informatics (NIIN) degree program welcomed its largest and most diverse cohort of students. Students in the program learn about human neuroanatomy, experimental design methodologies, "big data" analytic approaches, neuroimaging genetics and the laboratory mouse brain. While completing their degrees, students collaborate with INI faculty on a variety of neuroimaging research projects. Members of the current cohort plan to enter doctoral research programs, apply to medical school and seek jobs in the biotechnology field.
INI welcomes USC Emeriti
This winter, 25 distinguished USC alumni, emeritus professors and retirees visited INI for a tour of the facilities and an educational seminar. Meng Law, director of neuroradiology at the Keck School of Medicine of USC, spoke to the group about the institute's basic and translational research on Alzheimer's disease, including ongoing clinical trials. Law also offered strategies for preventing further memory loss, discussed genetic and environmental risk factors for the disease and explained how his team is now using ultra-high resolution MRI scans to gain a clearer picture of the damaged caused by Alzheimer's.
PEOPLE
Hong-Wei Dong promoted to Professor
INI's Hong-Wei Dong was promoted to professor of neurology at the Keck School of Medicine of USC. Dong has been at the university since 2013 and has worked with LONI since 2006. As director of the Center for Integrative Connectomics, he and his team study mouse brain connectivity and neuroanatomy, neuronal cell types and the differences in connectivity underlying neurological disorders such as Alzheimer's disease and autism spectrum disorders.
Siemens engineer begins residency at INI
Jin Jin, senior scientist at Siemens Medical Solutions USA, began a three-year residency at USC's Health Sciences Campus, where he will support USC teams collecting ultra-high field MRI data. With a specialty in magnetic field strength of 7Tesla or higher, Jin is collaborating with INI researchers—including Danny Wang, Meng Law, Kay Jann and Lirong Yan—who are using the institute's new Siemens Magnetom Terra 7T MRI scanner to acquire high-resolution images of the living human brain.
Featured INI postdoctoral fellows
Ryan Cabeen, Dogu Baran Aydogan, and Michael Bienkowski
Ryan Cabeen (left) is a Los Angeles native who received his PhD in Computer Science from Brown University. He is currently developing computational tools for 3D visualization, data exploration and large-scale image processing, with an emphasis on quantifying brain microstructure and connectivity using diffusion MRI. He also collaborates with researchers across the Keck School of Medicine of USC to understand neurodevelopment and to quantitate and visualize the structure of the vestibulocochlear nerve in children with severe hearing loss.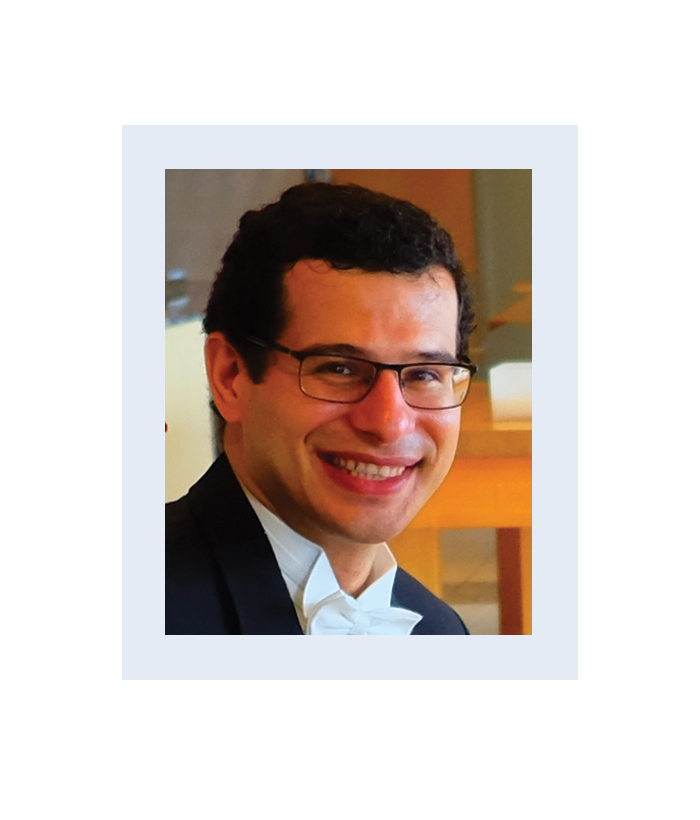 Dogu Baran Aydogan was born in Izmir, Turkey. He earned his MS and PhD in Biomedical Engineering from Tampere University of Technology, Tampere, Finland in 2007 and 2014 respectively. He researches the connectivity of the brain using diffusion MRI images, and in 2016 he received the Young Scientist Award at the International Conference on Medical Image Computing and Computer Assisted Intervention (MICCAI).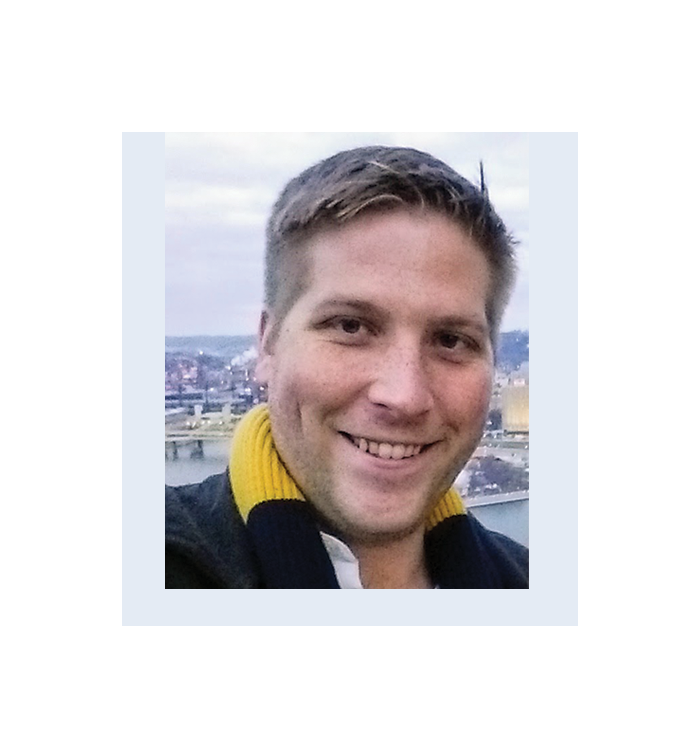 Michael Bienkowski received his PhD in neuroscience from the University of Pittsburgh in 2012. His research focuses on the relationship between anatomy, genetics, and function within brain regions involved in memory and emotion. He recently discovered genetic boundaries indicating distinct cell differences in the hippocampus, which he leveraged to create an anatomical atlas of the region, laying the foundation for major advancements spanning several areas of research.
Check back next quarter to meet three more of our postdocs.
In December, INI faculty and staff gathered for end-of-year festivities that included food, fraternization and a series of competitive events. Ten teams of three, with names like "Santa's Little Hippocampus" and "Keckingball," participated in INI's first annual Winter Games. The Games kicked off with a tomato relay race, during which team members traversed a hill outside the institute, balancing a tomato on a spoon and attracting the attention of passersby. Next, the teams assembled inside for a gingerbread house speed-building competition: each group received gingerbread slabs, icing and candy décor and was given 10 minutes to design and erect a structure. Houses were judged on quality of handiwork, creativity and the accompanying narrative provided by each team. The Games wrapped up with a jeopardy-style event testing participants on categories such as "Coding," "That's Not Science!" and "Toga-isms." Team "Jingle Jangle"--composed of Farshid Sepehrband, Henrietta Movsessian and Sandra Phung--took home the grand prize, which included treats, medals and bragging rights for an entire year.
INI In the News
The world's largest set of brain scans are helping reveal the workings of the mind and how diseases ravage the brain in Science magazine.
Neuroimaging and big data on Data Skeptic Podcast
Neuroscience frontiers on Data Skeptic Podcast
Learn more about Our Research
Visit us online at www.ini.usc.edu.
Before you go, watch dendrites grow
Keck School of Medicine of USC
University of Southern California

323-44-BRAIN (323-442-7246)
Powered by